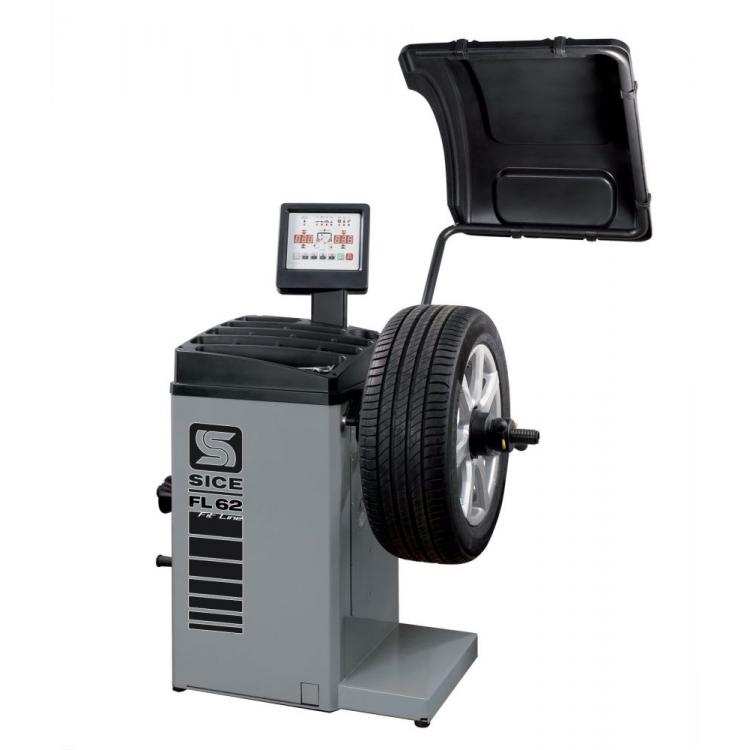 FIT LINE FL62 WHEEL BALANCER
from
£1,930.00
(inc. VAT)
Ex VAT
for 1
Data Sheets
Description
The Fit Line FL62 wheel balancer is designed for garages and low volume shops for passenger car and van and where space could be limited. Supplied in single phase and with a wheel guard. FL62 also benefits from automatic input of both the rim distance and diameter with just the input of rim width needed to be manually input, this allows for the dimensions to be highly accurate allowing for greater precision.
FEATURES AND BENEFITS
Lightweight and slim space saving hood assembly
11 programs for Steel and Alloy wheels
Hidden weight and OPT programs
42mm – 156mm cone range
Callipers and 100g weights as standard
70kg Wheel Weight
ADDITIONAL INFORMATION
Automatic Wheel Balancing machine
The Fit Line FL62 is an ergonomic machine with a spacious high impact and large weight tray, a modern bright display allows for ease of use with 11 programs to choose from. Wheel data acquisition is automatic on the internal gauge which can also be utilised for manual weight placement at either 12 or 6 o'clock position, assisted with the weight holder clip or assisted with the laser pointer (Optional).
The FL62 wheel balancer has all the functionality and accuracy of equipment twice its price.

FIT LINE FL62A: Display wheel balancer with automatic data input (distance & diameter 26"), automatic balancing with brake at the end of the electronic cycle, wheel guard included, locking kit included.    (Standard version)
FITLINE FL62M: Display wheel balancer with manual data input, automatic balancing with brake at the end of the electronic cycle (wheel guard included, locking kit included.     
OPTIONAL EQUIPMENT:
Foot Brake
ES-6D External sensor
EL80 Wheel lift
Interior light
CCK Coloured front panels (RAL1007 Yellow / RAL3002 Red / RAL7016 Blue)
Delivery
Our garage equipment is dispatched based on the agreement reached during time of sale. The machinery will always be sent on economy delivery service unless otherwise agreed on a time scale of 7-10 days.
Delivery to a mainland UK address is 7-10 days for the majority of items. Urgent supply of equipment may be arranged at additional cost and agreed when purchasing. If you are located outside mainland UK please contact us for a delivery quote. Some very large items such as lifting equipment and commercial vehicle tyre changers will incur an extra delivery charge. You will be contacted by our customer service team via telephone prior to your delivery.