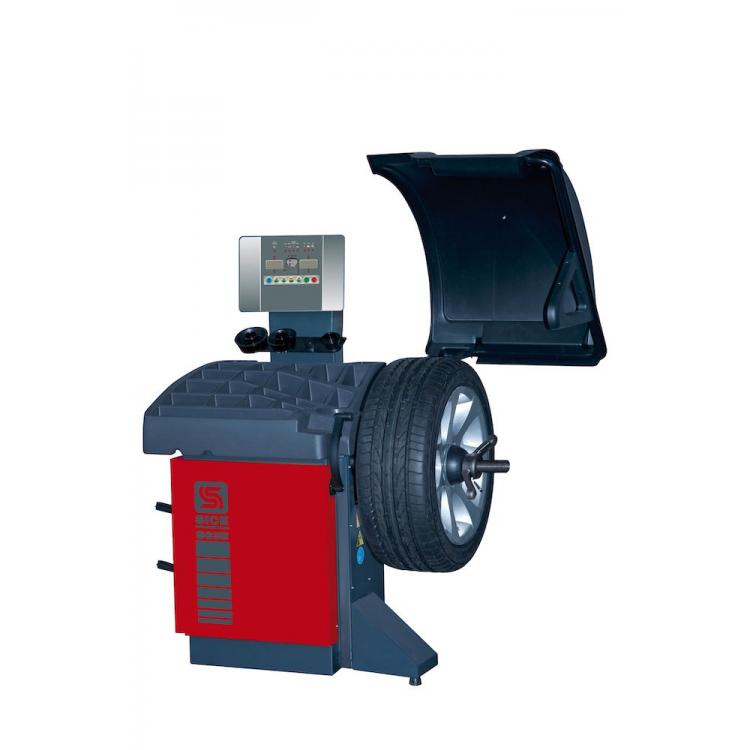 S63E 28" Full Auto Data Input Wheel Balancer
from
£POA
(inc. VAT)
for 1
Data Sheets
Description
SICE S63E Wheel Balancing machine
Product Description
Wheel Balancers
The SICE S63E Wheel balancer is a 28" Fully automatic wheel balancer with Laser technology. Designed to give a professional wheel balance experience the machine is sized to work with high offset wheels without the need for additional spacers. It also has an automatic brake at the end of the spin providing reduced cycle time and high performance. The "zero" maintenance motor and highly innovative design solutions guarantee reliability and sturdiness even with the demand of high workloads.
Features and Benefits
•Appealing design and shape to allow maximum access to inside the wheel.
•The weight tray is made of highly resistant materials.
•The new wheel guard allows use whit wheel sizes up to 44". 
•LED spotlight to light-up the work area and make it easier to apply weights.
•Laser pointer at 6 o'clock for accurate weight placement.
•Quick and intuitive sensitivity calibration.
•Electronic input of wheel diameter and distance with QP Quick Program function which automatically activates the balancing programmes, avoiding keypad selection.
•Automatic wheel positioning in the point where the balancing weight has to be applied and electrical positioning brake (RPA).
•2 modes to position the adhesive weights: 6 o'clock laser indicator or manually at 12 o'clock. 
•ES-7 Sensor External sensor for contactless measurement of wheel width (optional).
 
Additional Information
SICE S63 Professional Fully Automatic wheel balancer

The SICE S63 wheel balancing machine is designed for professional wheel balancing on passenger cars as well as lightweight transport vehicles. Included with the wheel balancer is Laser guided weight placement, LED spotlight for easier working as well as automatic data acquisition with the focus on speed and ease of use.
The SICE S63 model is now also available with automatic locking wheel as well as an optional ES-7 sensor.

Self-calibration wheel balancer

Quick and intuitive sensitivity calibration comes as standard on the S63E. The calibration weight supplied with the machine is simply applied directly to the spin unit, ensuring maximum precision and eliminating operator error. This means that your S63 Professional wheel balancer will always be at its most accurate.
Delivery
Our garage equipment is dispatched based on the agreement reached during time of sale. The machinery will always be sent on economy delivery service unless otherwise agreed on a time scale of 7-10 days.
Delivery to a mainland UK address is 7-10 days for the majority of items. Urgent supply of equipment may be arranged at additional cost and agreed when purchasing. If you are located outside mainland UK please contact us for a delivery quote. Some very large items such as lifting equipment and commercial vehicle tyre changers will incur an extra delivery charge. You will be contacted by our customer service team via telephone prior to your delivery.