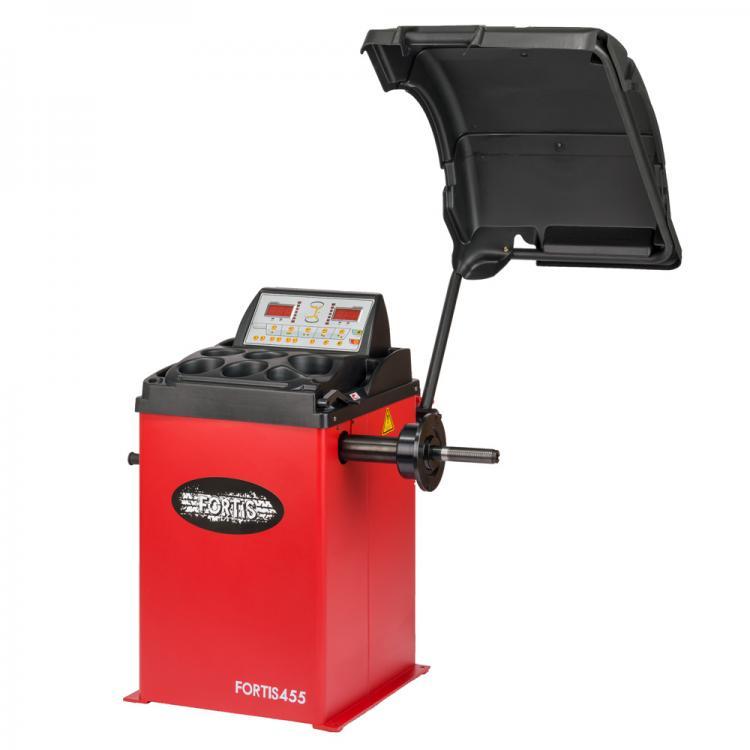 FORTIS455 24" Manual Data Input Wheel balancer
from
£820.00
(inc. VAT)
Ex VAT
for 1
Description
FORTIS455
This wheel balancer is very similar to the old UNITE U800 wheel balancer. It is a fully motorised wheel balancer with manual data input. The operator will enter the 3 specifications of offset, wheel width and wheel diameter before pulling down the guard to start the auto spin. The wheel will run through is wheel balancing cycle and then stop and the display will indicate what weight needs to be applied and where. Providing a clear LED readout and position indicators the wheel balancer will take any wheel up to 24" and a max weight of 65kg.
Benefits of the FORTIS 455 wheel balancer
Patented intellectual property software
Dynamic / Static / ALU and motorcycle modes
Customisable controls for operators
10 sec balancing cycle
Self-calibration programme for accurate readings
Durable weight tray top
IMD scratch and chemical resistant read out
Display panel tested to 500,000 operations.
12 month parts warranty
Motorised Wheel Balancer
The FORTIS 455 wheel balancer is designed to be a compact, easy to use wheel balancer. Perfect for use where space is tight the operator can use the wheel balancer with ease. It has manual data input of the 3 parameters needed to balance a wheel. The spin cycle is then started by a micro switch when the hood is pulled down, completing and stopping the spin and showing the imbalance.
Included Accessories with wheel balancer
As with all FORTIS wheel balancers there are various accessories that we include as standard. Many manufacturers don't. Firstly there is a complete set of 3 wheel balancing cones covering small medium and large. Additionally we supply wheel weight plyers with the machine along with the 100g calibration weight, user manual and 12 months parts warranty.
Additional accessories that can be purchased are;

4 x 4 Cone for large centre holes
Transit Cone and Spacer for Transit and taxi wheels
Uni-Lug (Blind centre) adaptor for closed centre wheels
Motorcycle adaptor for motorcycle balancing
Wheel Balancer accuracy
Some people believe you have to spend a fortune on a wheel balancer to get an accurate balance. This isn't true. All Fortis wheel balancers, including the 440 have an accuracy of +/- 1g. This Wheel balancer is perfect for small to medium size tyre shops. With its manual data input and a cycle of 10 seconds this wheel balancer will perform to the accuracy of 1 gram giving you a perfect balance every time.
Weight placement on wheel balancer
As with all wheel balancing, the placement of the weights are vitally important. On most wheel balancers, the weight indicated on the screen should be applied directly at the 12 o clock position. If not placed correctly, the balancer will not show a zero balance. Some models on the market vary the weight placement position to be at 3 or 6 o clock so always check carefully. The FORTIS range of wheel balancers required weights to be fixed at 12 o clock.
| | |
| --- | --- |
| Rim Diameter | 10"-24" |
| Max Wheel Weight | 65 Kg |
| Max Wheel Diameter | 1118mm |
| Rim Width | 1.5" – 20" |
| Accuracy | +/- 1 gram |
| Power Supply | 1pH 240v |
| Balancing cycle | 10 Secs |
| Dimensions | 1250 x 1050 x 1050mm |
| Weight | 112Kg |
Delivery
Our garage equipment is dispatched based on the agreement reached during time of sale. The machinery will always be sent on economy delivery service unless otherwise agreed on a time scale of 7-10 days.
Delivery to a mainland UK address is 7-10 days for the majority of items. Urgent supply of equipment may be arranged at additional cost and agreed when purchasing. If you are located outside mainland UK please contact us for a delivery quote. Some very large items such as lifting equipment and commercial vehicle tyre changers will incur an extra delivery charge. You will be contacted by our customer service team via telephone prior to your delivery.