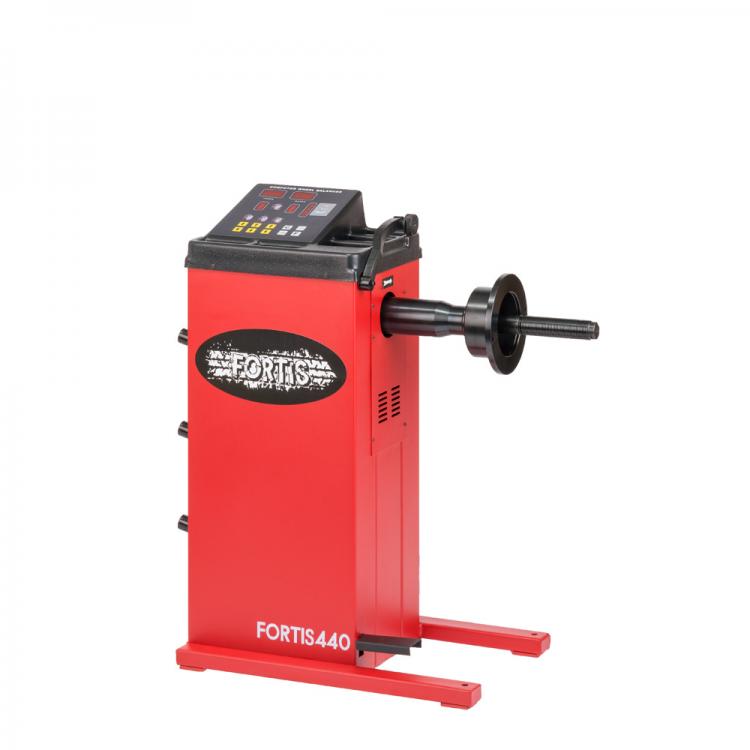 FORTIS440 24" Manual Data input HAND SPIN Wheel Balancer
from
£615.00
(inc. VAT)
Ex VAT
for 1
Description
FORTIS440
The FORTIS 440 Wheel balancer is the perfect companion to the FORTIS 220 Tyre changing machine. Small and compact, it is an accurate manual data input hand spin wheel balancer. The balancer can be operated with or without the protective hood, useful in mobile applications or where space is tight. Data is manual input on this model but the accuracy and capabilities of the machine are equal to any other wheel balancer with an accuracy of +/- 1 gram. The operator will enter the 3 specifications of offset, wheel width and wheel diameter before spinning the wheel for the balancing process. The balancer will then indicate the weight placement required and its value. Simple, compact, affordable and accurate the FORTIS440 is also ideal for use in a in a compact workshop environment as well as a mobile tyre fitting operation.
Benefits of the Fortis 440 wheel balancer
Three ALU balancing programs and STA balancing program
Specially designed shaft for high precision.
Wheel balancing machine can change display from inch to millimetre, gram to ounce.
Self-calibrating programs for constant accuracy
Compact body, space saving and suitable for mobile work
Hand spin, no motor.
12 months parts warranty
Hand Spin Wheel balancers
Hand spin wheel balancers are most often used in mobile vans or workshops which are tight on space. The fact that the machine is hand spin makes the whole body more compact as there is no motor. More importantly, with a hand spin balancer there is no need for a protective hood, minimizing space even more. Despite what many people think, the accuracy of a hand spin wheel balancer is just as accurate as any other motorised balancer.
Mobile Tyre Fitting
The compact nature of the hand spin wheel balancer makes it ideal in mobile applications. Coupled with the Fortis 220 you have machinery that will get you on the road fitting tyres in no time. We also supply petrol compressors, inverters and full fitment options for a mobile vehicle. Just give us a call to discuss your needs.
Self-calibration
The self-calibration mode enables you to test and set the various sensors in the machine to check everything is working correctly. It's good practice to run the calibration when the machine is first delivered and then you can run it once a month just to check you are providing the very best in wheel balancing accuracy.
| | |
| --- | --- |
| Rim Diameter | 12"-24" |
| Max Wheel Weight | 65 Kg |
| Max Wheel Diameter | 1000mm |
| Rim Width | 1.5" – 12" |
| Accuracy | +/- 1 gram |
| Power Supply | 1pH 240v (for display only) |
| Balancing cycle | 15 Secs |
| Dimensions | 710 x 440 x 1010mm |
| Weight | 50Kg |
Delivery
Our garage equipment is dispatched based on the agreement reached during time of sale. The machinery will always be sent on economy delivery service unless otherwise agreed on a time scale of 7-10 days.
Delivery to a mainland UK address is 7-10 days for the majority of items. Urgent supply of equipment may be arranged at additional cost and agreed when purchasing. If you are located outside mainland UK please contact us for a delivery quote. Some very large items such as lifting equipment and commercial vehicle tyre changers will incur an extra delivery charge. You will be contacted by our customer service team via telephone prior to your delivery.