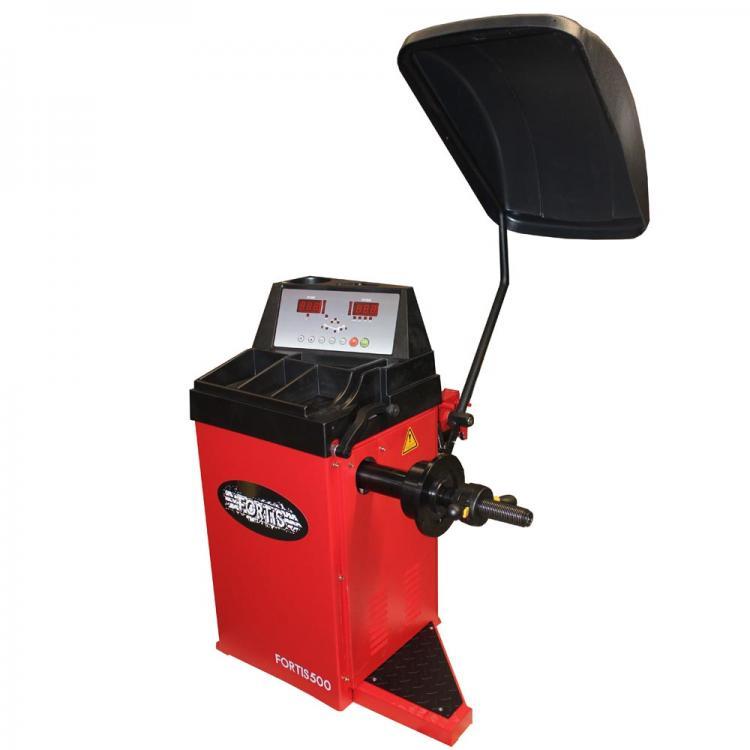 FORTIS500 24" 2D Semi Automatic data Wheel balancer
from
£1,030.00
(inc. VAT)
Ex VAT
for 1
Description
The main advantage of this wheel balancer is the automatic data input function for some of the parameters. By pulling out the measuring arm, the wheel balancer will automatically pick up both the offset and the wheel diameter of the rim, leaving only the wheel width to be entered by hand using the measuring callipers supplied. This means that in a busy shop, cycle time is reduced for the wheel balancing operation. Designed with a short body for smaller space requirements and a sturdy 40mm shaft the wheel balancer will take up to a 24" rim and max wheel weight of 65kg.
Benefits of the FORTIS 500 Hand Spin wheel balancer
Patented intellectual property software

Balancer has DYN/STA and different ALU balancing programs, this balancer also has motorcycle balancing program.

The machine allows user to customize settings to increase working efficiency

User can input data by clockwise/anti-clockwise wheel rotation

The Wheel balancer has a self-calibration and diagnostic program

The machine can be optionally equipped with motorcycle adaptor

Automatic data input of offset and diameter.
12 months parts warranty
Automatic data input
A wheel balancer with automatic data input relates to the capture of measurements. A wheel balancer needs the offset, wheel diameter and wheel width to calculate the imbalance of the wheel. With this 2D wheel balancer the offset and the diameter of the wheel are captured automatically. Only the wheel width needs to be measured. This means that the whole balancing cycle is a lot quicker than with manual data input machines.
Motorcycle wheel balancing
This machine has a motorcycle wheel balancing program which can be used in conjunction with an optional motorcycle wheel balancing adaptor. Motorcycle wheel balancing is not as straight forward as passenger wheel balancing and many shops that don't specialise in bikes will steer clear of it. Adaptors are required for general motorcycle wheels, single sided wheel and there are even specialist adaptors for some BWM and Harley Davidson bikes. If bike balancing is your thing, please call us and we can discuss the options to get you totally covered.
Custom operator settings
This wheel balancer also features the ability to customise operator settings so by selecting you specific operator number, the settings for the machine are all configured to your requirements. This is also useful in a single use depot as you can configure operator number to be differing ALU settings so the machine can be ready to receive a wheel at the push of a button.
| | |
| --- | --- |
| Rim Diameter | 10"-24" |
| Max Wheel Weight | 65 Kg |
| Max Wheel Diameter | 1000mm |
| Rim Width | 1.5" – 20" |
| Accuracy | +/- 1 gram |
| Power Supply | 1pH 240v |
| Balancing cycle | 10 Secs |
| Dimensions | 850 x 560 x 1160mm |
| Weight | 130Kg |
Delivery
Our garage equipment is dispatched based on the agreement reached during time of sale. The machinery will always be sent on economy delivery service unless otherwise agreed on a time scale of 7-10 days.
Delivery to a mainland UK address is 7-10 days for the majority of items. Urgent supply of equipment may be arranged at additional cost and agreed when purchasing. If you are located outside mainland UK please contact us for a delivery quote. Some very large items such as lifting equipment and commercial vehicle tyre changers will incur an extra delivery charge. You will be contacted by our customer service team via telephone prior to your delivery.