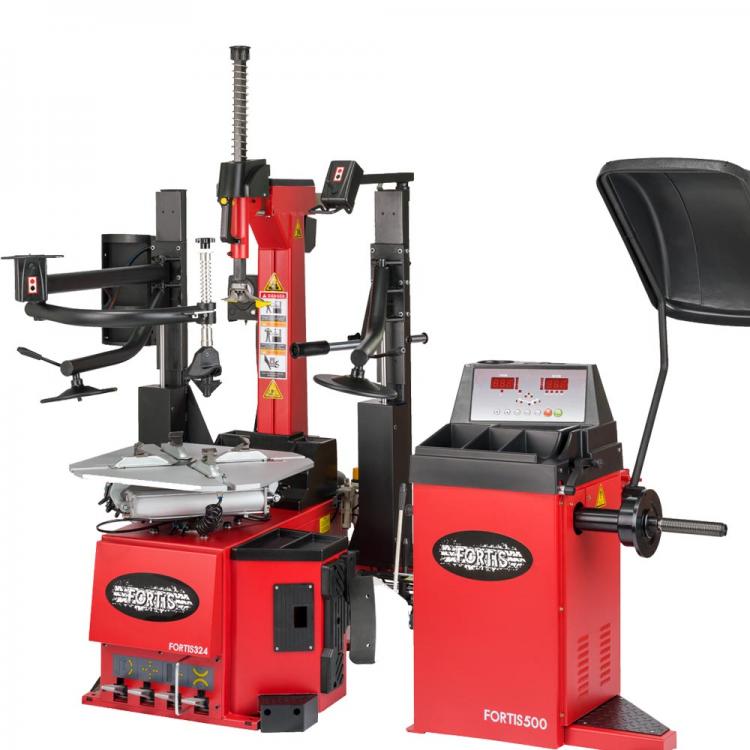 Super automatic tyre changer and wheel balancer package
from
£3,195.00
(inc. VAT)
Ex VAT
for 1
Description
The ultimate tyre machine package for handling large, run flat tyres on aftermarket wheels. The Fortis 324 has a massive 27" clamping capacity internally and up to 24" externally. Additionally the tyre changer has 2 assist arms to ensure run flat tyres are easy to fit as well as the built in fast inflation
The Fortis 500 wheel balancer completes the package with time saving automatic data input of the offset and diameter measurements. Entering the wheel width manually is the only process that is required before closing the protective hood and starting the automatic balancing cycle.
Benefits of the Super-Automatic tyre machine package
Perfect for busy tyre shops handling run flats

27" Fully-Automatic tyre changer with double assist arm

Motorised, auto data input 2D wheel balancer

Price includes build, inspection and delivery

12 month parts warranty

Single phase 13 amp socket power supply on both machines.

8-10bar compressed air supply required for tyre changer
27" Super automatic Tyre Changer with Double assist arm
The Fortis 324 is one of the largest table top tyre changers you will find in the UK market. The ability to clamp wheels up to 27" stands it apart from other Tyre Changers in this price range. You can take advantage of tyre machine and balancer package offers and get your wheel balancer ½ price with this package.
Full details of this fantastic machine can be seen here
24" 2D Wheel balancer with Auto data input.
The Fortis 500 is a 2D wheel balancer, meaning you have automatic data input of the offset and diameter measurements that the balancer needs to carry out the balance. The wheel balance is massively reduced in price when bought as a tyre changer package. The wheel balancer comes with a set of 4 cones as well as the quick release wing nut and weight plyers.
Full details of the Fortis 500 wheel balancer can be found here.
Delivery
Our garage equipment is dispatched based on the agreement reached during time of sale. The machinery will always be sent on economy delivery service unless otherwise agreed on a time scale of 7-10 days.
Delivery to a mainland UK address is 7-10 days for the majority of items. Urgent supply of equipment may be arranged at additional cost and agreed when purchasing. If you are located outside mainland UK please contact us for a delivery quote. Some very large items such as lifting equipment and commercial vehicle tyre changers will incur an extra delivery charge. You will be contacted by our customer service team via telephone prior to your delivery.