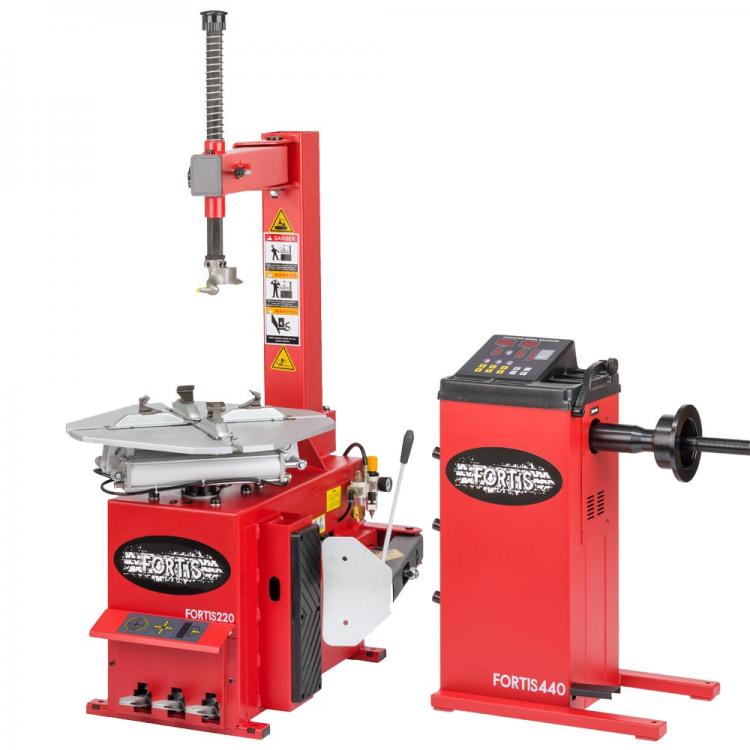 Semi-Automatic Tyre Machine and Balancer package
from
£1,295.00
(inc. VAT)
Ex VAT
for 1
Description
Why not take advantage of our special deals when buying a tyre machine and balancer package? Included in all our Fortis tyre machine packages are a tyre changer and wheel balancer from the FORTIS range which have been carefully matched to complement each other. Also included is £50 consumable credit to get you started with balance weights, tyre valves and repair materials.
The Semi-Automatic tyre machine and balancer package is a perfect entry level package for those who are changing a small amount of tyres. It also makes an ideal package for motorcycle tyre changing or use in a mobile vehicle due to its compact size.
Benefits of the Semi-Automatic tyre machine and balancer package
Save 50% on the price of the wheel balancer when buying as a package

Perfect for mobile or compact space applications

£50 worth of free consumables

22" Semi-Automatic tyre changer with alloy wheel protection

Hand spin, compact wheel balancer

Fully Built, tested and ready to go

12 month warranty

Single phase 13 amp socket power supply

8-10bar compressed air supply required.
22" Semi-Automatic tyre changer
The tyre fitting machine featured in this package is ideal for small tyre shops, MOT stations or garages that have a small throughput of tyres. Imaging being able to make the most of the customer base you already have by offering tyres if you don't already.
This Tyre changer will suit most tyre and wheel combinations you will find on the road. The machine is Italian in design and built to the highest levels of quality. Included as standard are the alloy protection kit for the clamping jaws, bead breaker and mounting head.
The full specification of the Tyre Changer can be seen here
24" Hand spin wheel balancer
The wheel balancer compliments the tyre changer perfectly. Hand spin in operation this means the balancer is compact and light weight, lending itself perfectly to mobile tyre fitting.
Manual data input makes the machine easy to operate and with a balancing accuracy of +/- 1gm it will deliver a perfect balance every time. The machine comes complete with a set of 4 mounting cones, measuring callipers and weight plyers.
The full specifications for the wheel balancer can be found here
Delivery
Our garage equipment is dispatched based on the agreement reached during time of sale. The machinery will always be sent on economy delivery service unless otherwise agreed on a time scale of 7-10 days.
Delivery to a mainland UK address is 7-10 days for the majority of items. Urgent supply of equipment may be arranged at additional cost and agreed when purchasing. If you are located outside mainland UK please contact us for a delivery quote. Some very large items such as lifting equipment and commercial vehicle tyre changers will incur an extra delivery charge. You will be contacted by our customer service team via telephone prior to your delivery.