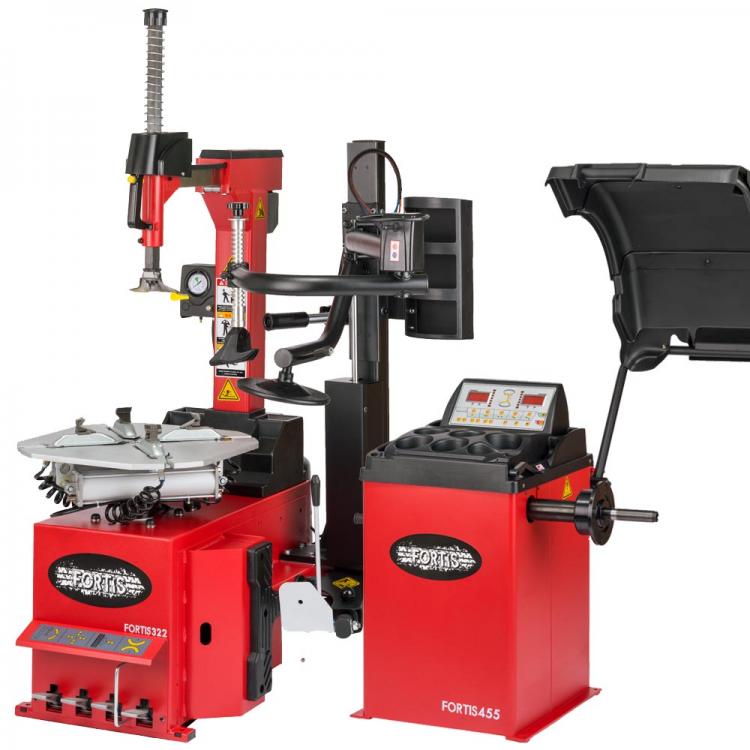 Fully-Automatic Tyre Machine and Balancer package
from
£2,425.00
(inc. VAT)
Ex VAT
for 1
Description
The Fortis Fully Automatic Tyre Machine package is the perfect package for busy tyre shops thanks to the Fortis 322 tyre changing machine with its 24" capacity and the 3 way pneumatic assist arm for run flat and low profile tyres.
Coupled with the Fortis 455 wheel balancer with its manual data input and 1 gram accuracy the package will have you changing tyres, including run flats, in a matter of seconds. Don't forget as well, when buying the package you save 50% on the price of the wheel balancer.
Benefits of the Fully-Automatic tyre machine package
Save 50% on the price of the 455 wheel balancer

Perfect for busy tyre shops

£50 worth of free consumables

24" Fully-Automatic tyre changer with alloy wheel protection

Run Flat capable assist arm tyre changer

Motorised, manual data input wheel balancer

Full build and inspection prior to dispatch

12 month warranty

Single phase 13 amp socket power supply.

8-10bar compressed air supply required.
24" Fully-Automatic tyre changer with assist arm
The Fortis 322 is specifically designed for run flat and low profile tyre changing thanks to its 3 way assist arm. The pneumatically controlled assist arm provides guidance and pressure on the side wall of the tyre to assist in keeping the bead in the wheel well while fitting.
Additionally, the Fortis 322 is equipped with a fast inflate feature that allows the tyre to seat while still on the machine. All the specifications for this Fortis 322 tyre changer can be found here.
24" Motorised wheel balancer with manual data input
The Fortis 455 wheel balancer is designed to make wheel balancing a simple and efficient operation. Handling up to a 24" rim this wheel balancer also features a wealth of programs for dynamic and static balancing as well as motorcycle and hidden weight placements.
The wheel balancer also has a toughened chemical resistant top for holding weights as well as a keypad which is tested to over 500,000 cycles.
Full details of the balancer can be found here.
The Fortis promise
All Fortis machines are fully built and tested before dispatch to ensure they reach you in prime condition and ready to use. Each machine is covered by our 12 month warranty with all parts in stock in the UK for fast service should you need it.
Not sure if the machinery is right for you. Take advantage of our 28 day money back guarantee. If you are not 100% happy with your machine for whatever reason, just let us know and we will collect the machine and issue you with a full refund of the purchase price.
Delivery
Our garage equipment is dispatched based on the agreement reached during time of sale. The machinery will always be sent on economy delivery service unless otherwise agreed on a time scale of 7-10 days.
Delivery to a mainland UK address is 7-10 days for the majority of items. Urgent supply of equipment may be arranged at additional cost and agreed when purchasing. If you are located outside mainland UK please contact us for a delivery quote. Some very large items such as lifting equipment and commercial vehicle tyre changers will incur an extra delivery charge. You will be contacted by our customer service team via telephone prior to your delivery.